BACK
5 Easy After-School Snack Ideas
November 8, 2021
It's 4 PM, is your tummy grumbling? For adults, it's not uncommon to need a little snack to get through the remainder of the workday – it's been a few hours since we ate our lunch, and it will be a few more until we sit down for dinner. And for kids, that's even more true. It's totally natural for your kiddos to make a beeline for the fridge as soon as they get home – kids eat lunch even earlier than adults (most school lunchtimes happen between 10:30 and 11:30 AM), and with an afternoon of classes, activities, and sports, they're likely to be famished by the time they return home.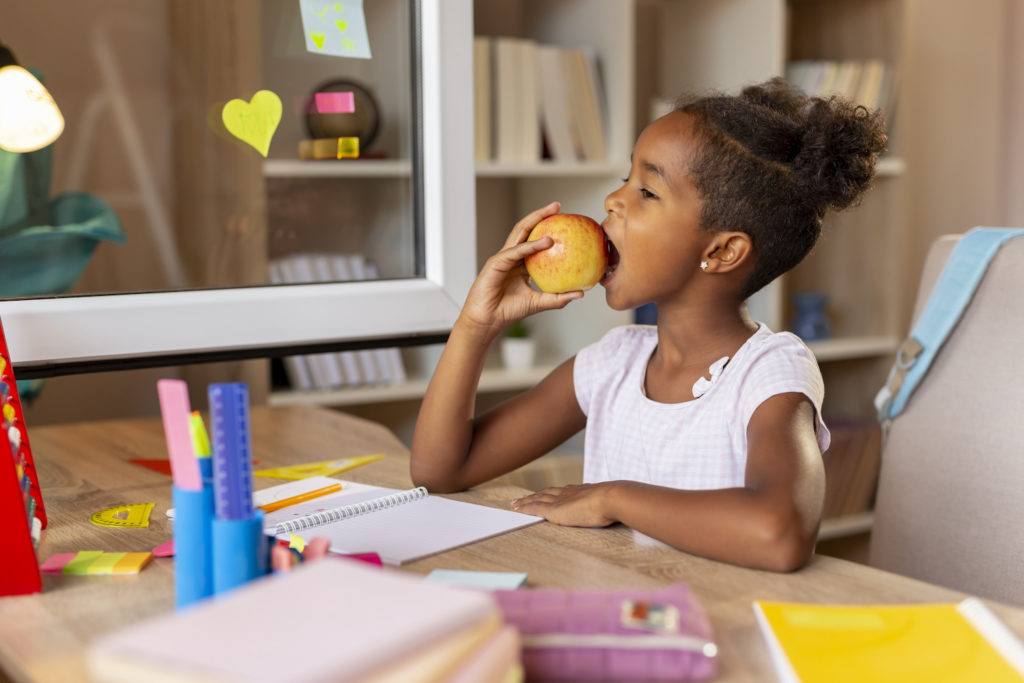 An afternoon snack can help tide kids over until dinnertime and be fuel for study sessions and homework – but not all snacks are created equal. Kids often reach for what's easiest and right in front of them, and that often means sugary snacks and drinks. While those items can be OK once in a while as a special treat, those low-nutrient options are not the best choice when it comes to fueling kids' bodies and minds.
The good news? There are lots of fast and healthy snack options out there that kids will love and that can be easily prepared ahead of time to have ready and waiting at home or to pack in their lunch boxes for daycare or after-school sports! If your kids are old enough to prepare their snacks themselves, create a list of easy snack ideas to post on the fridge so they have a bunch of healthy options and ideas on hand!
Need some inspiration? Read on for 5 fun ideas:
1. A Big Bowl of Fruit
There's nothing easier than a bowl of brightly colored apples, oranges, clementines, and bananas to choose from! All are easy to reach for, tasty, and fun to eat. If your kids are little, peel and slice the fruit ahead of time and store it in the fridge or pack ahead in their lunchboxes.
2. Cut-up Veggies
Want to make your kids feel extra-fancy? Teach them the French word for a raw veggie snack served with dip: Crudités (pronounced "cru-de-tes"). Store your pre-cut veggie snack in the fridge alongside hummus or a yogurt dip – yum!
3. Ants on a Log
"Ants on a log" is just a fun name for celery sticks filled with peanut butter and topped with a row of raisins (the ants). This tasty snack is a classic and the perfect combo of sweet and salty – and healthy!
4. Apple "Nachos"
Make a plate of fun-to-eat apple "nachos" by slicing up an apple into "chips" (thinly sliced apple quarters) and topping with a drizzle of peanut butter, raisins or other dried fruit, unsweetened coconut flakes, and a sprinkle of cinnamon.
5. String Cheese, Whole Wheat Crackers & Apples
String cheese is an easily packable snack and, paired with some apple slices and crackers, can be a filling after-school bite that's perfect for after sports or for kids who have some time before dinner is served.
Be sure to click here for more healthy snack ideas!