Since we first started awarding Alfond Grants on a pilot basis at MaineGeneral Hospital in Waterville in 2008, hospitals have been a critical part of all we do.
As a trusted partner for us, and a trusted source of information for families, they help make sure that new parents know that their child has a $500 Alfond Grant for their future education. As one maternity nurse told us, "We tell families the Alfond Grant is the second best thing they bring home from the hospital!"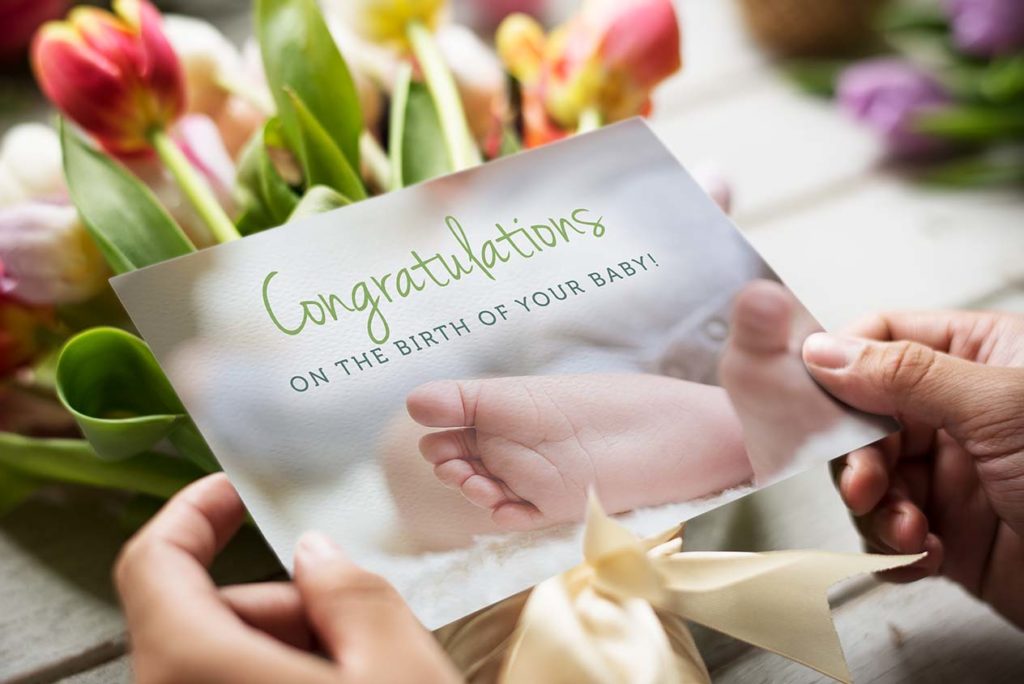 Our network spans hospitals across the state, and each hospital with a maternity ward identifies a key contact to work with us and with their team to share information with new parents.
Congratulations Cards and Contact Cards that they share with families means that new parents have information about the Alfond Grant right from the moment their child is born – and it helps us get better and more complete contact information so that we can share important information with families about their child's Alfond Grant.
Some hospitals go above-and-beyond in their efforts to make sure new families know about the Alfond Grant. At Northern Light Mercy Hospital in Portland, nurses on the maternity ward added "completion of MyAlfondGrant Contact Card" to their discharge checklist, put up posters in the hallways, and shared posters with affiliated OB-GYN and pediatric offices. Their Contact Card completion rate nearly tripled in the course of a year. Hospitals like Northern Maine Medical Center have been using strategies like this from the beginning — and as a result over 90% of their patients update their contact information with us.
---
How You Can Help
The team at ASF regularly reaches out to our Hospital Champions throughout the year to see if new materials are needed for distribution, to offer trainings for staff and to answer any questions. Each year we also deliver Whoopie Pies to hospital staff as a thank-you for their great work on behalf of the program!

Friend
Share Congratulations Card and Contact Card with new parents
Request new materials from ASF when supplies are running low

Champion
All Friend activities, AND:
Invite ASF to provide training and share information about the MyAlfondGrant program with staff

Gold Medal Champion
All Champion activities, AND:
Display posters and/or share videos about MyAlfondGrant
Over 75% of families complete Contact Card or added effort leads to significant improvement in Contact Card completion by families
The team at ASF regularly reaches out to our Hospital Champions throughout the year to see if new materials are needed for distribution, to offer trainings for staff and to answer any questions. Each year we also deliver Whoopie Pies to hospital staff as a thank-you for their great work on behalf of the program! Hospital Champions who want to request materials can do so any time by completing this form, and emailing it to someone on our team:
Hospital
Contact
Cary Medical Center
Central Maine Medical Center
Houlton Regional Hospital
Maine Medical Center
MidCoast Hospital
Northern Light-AR Gould Hospital
Northern Light Mercy Hospital
Northern Maine Medical Center
Stephens Memorial Hospital
St. Mary's Regional Medical Center

Colleen Quint


[email protected]







Alfond Center for Health/ MaineGeneral Hospital
Bridgton Hospital
Down East Community Hospital
Franklin Memorial Hospital
LincolnHealth – Miles Campus & Hospital
Mayo Regional Hospital
Mount Desert Island Hospital
Northern Light Eastern Maine Medical Center
Northern Light Inland Hospital
Northern Light Maine Coast Hospital
Pen Bay Medical Center
Redington-Fairview Hospital
Rumford Hospital
Southern Maine Medical Center
Waldo County General Hospital
York Hospital
Kate Leveille


[email protected]




---