BACK
5 Steps to Check Your Child's Alfond Grant Value
October 5, 2020
Did you know that if your child was born a Maine resident on or after January 1, 2013, they've been awarded a $500 Alfond Grant? The funds from this grant go towards supporting their future education. It's never too early to start planning for your child's bright future.
Parents whose child has an Alfond Grant should be getting regular updates from us in the mail about the grant's value. You can also check it out on our website, where you can update your contact info and even sign up for e-delivery.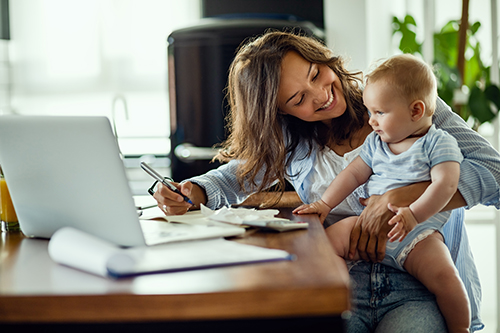 You can do these things in 5 easy steps:
Go to our website (MyAlfondGrant.org) and click on the "Check my Grant Value" link
Complete the form to get verified*

Enter Mom's first and last name (just as it would appear on the birth certificate – e.g. Elizabeth rather than Liz)
Enter Child's first and last name
Enter Child's date of birth
Select Place of Birth from the dropdown menu
Submit!

Create a login and verify your email
Save your login information and bookmark the site
After you've checked your child's Grant value, use your login to update your contact info and sign up for e-delivery
*This information needs to match in our database to locate your child's Alfond Grant. If it doesn't match, you will see a pop-up note that will let you know how to resolve the issue.
About the $500 Alfond Grant
Harold Alfond was a Maine businessman and philanthropist who wanted every Maine baby to have the opportunity that higher education brings. Whenever a new grandchild was born in his own family, he wrote a check for $500 for that grandchild's future education after high school. Then he thought: why shouldn't every Maine baby have what my new grandchild has? And so he created the Alfond Scholarship Foundation, a Maine non-profit, to invest a $500 Alfond Grant for all Maine babies.
If you'd like to learn more, watch our video about Harold Alfond and the My Alfond Grant.
We've been awarding grants automatically for all babies born Maine residents on or after January 1, 2013 (the grants were available on a more limited basis between 2008-2012). To date, we've awarded over $55 million to more than 110,000 Maine children! To learn more, check out this short video about Harold Alfond and the MyAlfondGrant program.
There's also lots more information, tools, and resources on the website to help you help your child grow. Check it out today!